What is lean? Where did it originate? What can it help you achieve? True Lean gives in-depth answers to these questions. Using more than forty full-colour images, Rudy Gort – author of 'the best lean book in the Netherlands' – explains the essence and power of lean in a very clear and understandable way.
True Lean consists of three parts:
* Origin – In order to understand the philosophy behind lean, the origin and evolution of what is now called lean is explained. This part goes back to the roots and core.
* Principles – The underlying principles are clearly explained using the 'house of lean' model and real-life examples. This part presents a holistic view of the system.
* Performance – Things can be done better, faster and cheaper: an apparent contradiction. And that's just the first step on the path towards becoming a learning and agile organisation!
True Lean is the ideal book for students, teachers, employees and managers who want to learn about lean.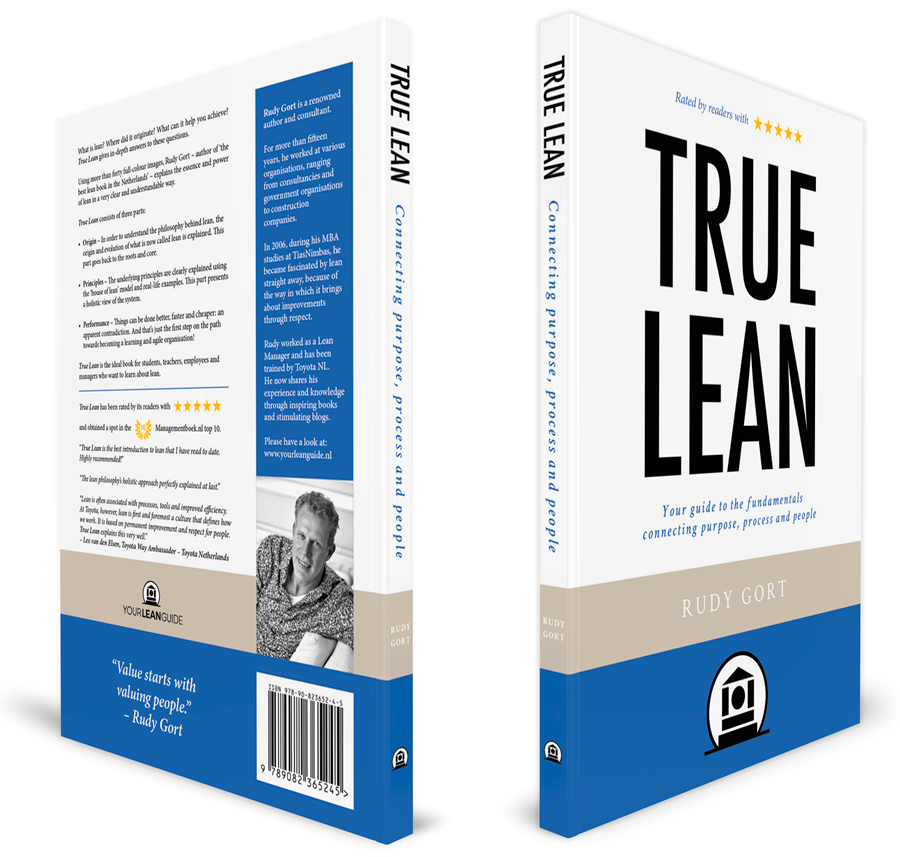 Preview pdf Ordering
1. The origins and evolution of lean
1.1 The origins
1.2 Propagation of the system
1.3 Lean is more!
1.4 Back to the core
1.5 Conclusion
2. The five main elements of the house of lean
2.1 The base: purpose
2.1.1 Guiding and binding goal
2.1.2 Purpose in relation to profit
2.2 The roof: value
2.2.1 Putting customers first
2.2.2 Inspire with a vision
2.2.3 Customer-defined value
2.3 The foundations: stability
2.3.1 The importance of stability
2.3.2 Visual management
2.3.3 Stable and standardised processes
2.3.4 Levelling out (heijunka)
2.4 The pillars: quality and timeliness
2.4.1 Jidoka: built-in quality
2.4.2 Just-in-time: rhythmic flow
2.5 The core: behaviour
2.5.1 Challenge: set challenging goals
2.5.2 Kaizen: do not waste knowledge
2.5.3 Genchi genbutsu: go to the source
2.5.4 Respect: learn to understand each other
2.5.5 Teamwork: stimulate self-organisation
2.6 Conclusion
3. The power of lean
3.1 Faster, better, cheaper
3.2 Unsurpassed flexibility
3.3 Innovative ability
3.4 Learning ability
3.5 Conclusion
Acknowledgements
Bibliography
Index
"True Lean is the best introduction to lean that I have read to date. Highly recommended!"

– T. van den Eijnden – reader review at Managementboek.nl

"The lean philosophy's holistic approach perfectly explained at last."

– M. Kooiman – reader review at Managementboek.nl

"Lean is often associated with processes, tools and improved efficiency. At Toyota, however, lean is first and foremost a culture that defines how we work. It is based on permanent improvement and respect for people. True Lean explains this very well."

– Lex van den Elsen, Toyota Way Ambassador – Toyota Netherlands
Titel : True Lean
Subtitel : Connecting purpose, process and people
Binding : Paperback
Distributievorm : Book (print, edition)
Formaat : 145mm x 210mm
Aantal pagina's : 164 (full-colour)
Uitgeverij : Lean Vertaald  – Amsterdam
ISBN : 9789082365245
Datum publicatie : 06-2020 (1st English Edition)
Prijs : 24,95 euro